tours
Please contact us if you wish to participate in any of our tours.
We develop tours to suit our clients' requirements. An example of a 22 day tour is set out below.
We also offer outdoor water based adventure tours and snow based tours.
Adriatic Tours Pty Ltd (ACN 123 609 325) is an allied member of The Australian Federation of Travel Agents Limited (AFTA). Our member number is 4452.
The 22 day trip takes you to Croatia, Montenegro and Bosnia-Herzegovina.
Numbers are limited to 16 guests. You will be travelling with tour directors Peter Thomas and Justine Noy, and your driver. We deliver the tours. We will both be with you for the duration of the 22 day tour. The benefit for you is a somewhat unique assurance of personal service.

You may not visit as many cities as you would on a traditional tour of western Europe but you will see so much more.

We leave and return to Zagreb. Zagreb is easily accessible by air, bus and train from all major European cities.
We do not rush from one hotel to another. We allow you to settle in for a few days and enjoy varied day tours. We are flexible and if you have a special request to see a site that particularly interests you, please let us know.
Some of the apartments / hotel rooms you will be living in can be viewed at the following links:
itinerary
Your proposed itinerary is set out below.
Day 1- Zagreb, Croatia
Welcome to this beautiful city of parks, museums and grand examples of Austro-Hungarian architecture. Our first dinner together will introduce you to your fellow travellers, our exciting itinerary for the next month and of course, the flavours of Croatian cuisine.
Day 2 Zagreb
We start our guided walking tour of the city centre from Trg Bana Jelačića which has been the city's main square since 1850. The tour includes a lengthy visit to Dolac, Zagreb's main market where hundreds of stall holders offer domestic smallgoods, cheese fresh from small producers in the mountains, fish from the Adriatic and organic fruit and vegetables. After lunch visit the museum(s) of your choice. There are countless options. For example, the Naive Art Museum features Croatia's village painters who were inspired by peasant craft traditions. The Technical Museum houses a World War II Italian submarine captured by the Partisans in 1943 and the reconstructed laboratory of the Croatian inventor Nikola Tesla. Another option is the Croatian History Museum and Natural History Museum. A light dinner before you end this busy day with a cultural performance (Lisinksi Concert Hall or similar). You may prefer to wander the city, ride on the trams or the funicular, drink coffee and perhaps enjoy a proper European sausage, roasted chestnuts or icecream from a street vendor. Dinner tonight will be another special experience.
Day 3 Plitvice Lakes
Up early and after breakfast, we drive to the UNESCO World Heritage listed Plitvice Lakes National Park. It is Croatia's largest natural attraction and features 16 spectacular turquoise lakes stretching 8 kilometres and hundreds of waterfalls. You will enjoy a short boat trip, plenty of walking and you may see a bear or a deer. Sustain yourself with fare from strudel stalls. We dine and stay overnight.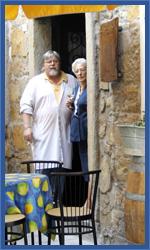 Day 4 Trogir
We stop for lunch at the medieval centre of Šibenik, whose maritime history has inspired some of Croatia's most patriotic songs. Enjoy strolling the steep alleys. Continuing south, your accommodation for the next 6 nights is in the centre of the beautiful old UNESCO listed town of Trogir. Settle in for a couple of hours before we take you to one of our favourite restaurants. Open grills, stone walls, typical Dalmatian hospitality and a great start to a wonderful week.
Day 5 Trogir
In 1937, English author and adventurer Rebecca West described approaching Trogir town by steamer from Split.
'..we came to the town of Trogir, which covers a minute island, lying close to the coast, in the lee of a larger island. It is one of those golden-brown cities; the colour of rich crumbling shortbread, of butterscotch, of the best pastry, sometimes of good undarkened gravy ... and everywhere are small but delicious palaces in the Venetian Gothic style'.
UNESCO describes Trogir as 'an excellent example of a medieval town'. Our guided walking tour will take in the markets, the squares and the promenade. We will also point out museums, churches and other buildings of interest which you may wish to revisit during the afternoon. Dinner at a different restaurant.
Day 6 Trogir
A day in Split including a visit to the palace of the Roman Emperor Diocletian (UNESCO listed). Guided tour of the old town, vibrant markets to visit, a lively waterfront and stone alleys featuring boutique shops. Lunch at your leisure on the seafront. You may wish to visit a museum. The City Museum features medieval weapons and the Ivan Mestrovic Gallery pays homage to Croatia's famous sculptor. The Croatian Maritime Museum is well worth a visit.
Day 7 Trogir
Leisure day – or at your choice, back to Split for the annual 7 May Feast of St Domnius, the city's protector. Cultural events, more traditional food and music and generally an exciting event being Split's main annual festival. Another option will be to take to the Adriatic to visit the island of Drvenik Veli by ferry.
Plenty of time for swimming, enjoying a Karlovačko beer and lunch by the sea.
Day 8 Trogir
We head north to visit the pretty coastal towns of Marina, Primošten and Sv (Saint) Filip. There are small villages on the way. We will enjoy lunch at a little cafe in Sv Filip. You may wish to hire a small boat, cruise about the Adriatic's small islands and enjoy a drink at the open air taverns.
Day 9 Trogir
Ferry to Hvar Island where we will enjoy lunch in medieval Hvar Town. One option is to take a water taxi to the nearby island beaches. If it is hot, don't forget your swimming gear if you use it. You can also rent a bike, boat or a scooter. Hvar Town's theatre built in 1612 is one of the oldest in Europe. There are plenty of other historical attractions. Last night in Trogir is always a special dinner for all of us.
Day 10 Budva, Montenegro
Scenic drive south along the coast over the border into Montenegro where we stop on the Budva Riviera. Tour the old town during the afternoon with a guide. You may wish to visit the Archaeological Museum, the Modern Museum or the many churches, one of which was used by Napoleon's forces to stable their horses. Dine tonight at one of our favourite restaurants.
Day 11 Budva
Kotor town is listed by UNESCO as a World Heritage site. It sits on Kotor Bay which is the world's most southern fjord and the bus journey around the bay is spectacular. The town itself sits between the bay and steep mountains which reflect the source of the word Montenegro (black mountain). The most beautiful photos of Kotor Bay do not capture its wonder. The town's squares hark back to their history: 'Square of Flour', 'Square of Wood' and the aptly named 'Square of Weapons' near the main gate. You will lose yourself for a day in the old walled city. You can climb a very steep winding path of 1350 steps to the Fortress of St Ivan. On the way home, we will take a short ferry trip across the Veriges Strait. Tonight we hope to introduce you to a Montenegrin Basil Fawlty type character named Milos, his restaurant Adriatic and one of the most authentic meals you will ever enjoy.
Day 12 Budva
Travel high into the mountains to the country's former capital and the country's cultural centre Cetinje. Montenegrins carry a hope that it may one day play that role again and the President maintains a house here, complete with bright national uniformed guards. The old embassies, including the French and the Bulgarian, are now museums. A guided town tour will introduce you to the museums and the revered Cetinje Monastery.
Day 13 Budva
Today is a day you will never forget. We board the train in the coastal town of Bar and head to Kolašin (Cyrillic: Колашин) in the mountains via the Mala Rijeka (Little River) viaduct, the highest railway bridge in the world. The viaduct is almost half a kilometre long and sits 200 metres above the river. Our train is definitely not first class but the experience and the views are something you will be telling your friends about for years. In winter, Kolašin is a lively ski resort and hub of Montenegro's growing mountain tourism. It was built by the Turks in the 17th century. Return to Budva by bus for our final dinner in this town.
Day 14 Herceg Novi
Welcome to the 'town of stairs' and magnificent views across the mouth of Kotor Bay to the entrance of the Adriatic Sea. When we first visited this beautiful town, we stopped for a couple of nights and stayed for 2 weeks. We hope you find it as enchanting as we did and still do. Scandanavians and Germans flock here to the health spas which use the therapeutic silt from the seabed. You may choose to visit the island of Sveti Stefan which offers great photo opportunities or head for the Pastrovici Hills (dotted with olive, cypress and pomegranate trees) to visit monasteries and enjoy lunch nearby. Sea kayaking will also be offered. We have a favourite restaurant in Herceg Novi which we will visit on our first night.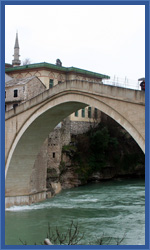 Day 15 Herceg Novi
Short trip back into Croatia to visit Dubrovnik including a guided town tour. One of the highlights is walking around the top of the old town walls. It is a two kilometre circuit and takes more than one hour. Dubrovnik is an amazing city of old orange trees, views of the Adriatic over sea walls, narrow steep residential alleys, historic buildings, good coffee on the squares, rich history and culture, and no shortage of tourist outlets if that is what you are seeking. The Memorial Room of the Defenders of Dubrovnik provides a sad reminder of the 1991 siege of the city. A short trip from Herceg Novi tonight to a domestic restaurant run by a passionate Hungarian.
Day 16 Mostar, Herzegovina
Mostar sits on both sides of the Neretva River. In medieval times, a small suspension bridge apparently connected the banks. Mostari means bridge keepers. The UNESCO listed Stari Most (Old Bridge) was completed in 1566 and remained intact until 1993 when it was destroyed. The bridge was re-opened in 2004 and words inscribed on a stone at one end remind travellers not to forget about its destruction. Enjoy a guided walking tour of the town and an introduction to the Islamic architecture and the multi ethnicity of the town. Settle in for 4 nights at one of the most remarkable hotels you will ever visit. Musligebovic is a museum and a hotel. All of our dinners in Mostar are highlights and start tonight.
Day 17 Mostar
Mostar is one of the most interesting towns in Eastern Europe to walk around and photograph and we will encourage you to take a stroll this morning. Some of the town's most interesting buildings include the the Cejvan-Čehaj Mosque built in 1552 and the Kara oz-Bey Mosque. Visit the Turkish spice, nuts and sweet store and buy the best walnut or rosewater lokum (Turkish delight) you have ever tasted (or seen). For lunch, we will visit one of Europe's largest water sources, the Buna River, and the Dervish monastery (tekija) which was built in the 1500s at the source of the river.
Day 18 Mostar
Today we travel to Jablanica, a town where the Partisans enjoyed an important victory in World War Two. Today, it is the lamb spit roast capital of the world. The bridge which was destroyed by Josip Tito in 1943 still hangs over the Neretva River and the war museum explains the story. The 1969 film Battle of Neretva starring Yul Brynner was nominated for an Academy Award for Best Foreign Language Film. Your jagnjetina (lamb) will be served fresh from the spit of one of 10 restaurants in the town. During the afternoon you can visit the many artisans and perhaps buy a unique reminder of your trip. In Ottoman times, Mostar to Dubrovnik was an important trade route and has long supported the 3 religious communities of Muslims, Christians and Orthodox. The result today is an impressive and interesting mix of not only architecture but craftsmen and women including coppersmiths and rug weavers. We will spend our last night in Mostar together in another good restaurant.
Day 19 Sarajevo, Bosnia
Today, a special train trip through and around the rugged mountains to Sarajevo. The line features aqueducts, steep figure 8 climbs and spectaculars views as the train twists and climbs and then finally descends into Sarajevo. This capital city has been described as the crossroads between east and west. Settle in, cross one of the many bridges over the Miljacka River and wander down to the Baščaršija quarter. Try a ćevapi 'sausage' in the city that prides itself as having the best cevaps in Europe. Or enjoy a Turkish coffee. Tour around town on the old trams before enjoying dinner.
Day 20 Sarajevo
Guided town tour in the morning. You will see places of worship for various religions, oriental and Turkish architecture and open air large piece chess games vigorously played out with many spectators. You will learn about Sarajevo's history including the assassination on 28 June 1914 of Archduke Franz Ferdinand, an event which ignited World War One, and visit the Tunnel Museum. The 700 metre tunnel under the airport linked Sarajevo to the outside world during the siege of the early 1990s. A free afternoon to visit a museum (with a guide if you wish) or purchase some handmade gifts from the many artisans including silversmiths, blacksmiths, wood carvers and leather craftsmen and women.
Day 21 Jajce
We take our bus to Jajce. You may not know anyone who has been to this town but you will relish the natural beauty and break that this stop offers us. We stay by the Pliva River, close to waterfalls and the Pliva Lakes. The town's castle was the fortress of the last Bosnian King. Today will be as adventurous or relaxing as you make it. Options include fishing from a boat, fly fishing from the shores of the lake, kayaking, canoeing or simply walking. You may see another deer or even a bear. You will see many species of birds. Enjoy a sauna at Hotel Stari Grad at the end of the day before dinner.
Day 22 Zagreb, Croatia
A leisurely drive back to Zagreb where we started three weeks ago. Our bus driver will deliver you to Zagreb airport, train station or the bus terminal and you can head home .... or to your next adventure. If you would like to spend some more time exploring Zagreb we will assist you to arrange accommodation.
UNESCO
UNESCO means United Nations Educational Scientific and Cultural Organization. Properties on the UNESCO's World Heritage List are those which are considered by the UN's World Heritage Committee to have outstanding universal value. You will visit 6 World Heritage sites:
4 of Croatia's 7 listed properties
the Old Bridge Area of the Old City of Mostar in Bosnia and Herzegovina
the Kotor region of Montenegro.
For a full explanation of the World Heritage List and details of the places you will visit, please ask us to email you the Adriatic Cottages and Tours UNESCO Fact Sheet.
How much is an Adriatic Cottages Tour?
Price per person is AUD $6990 twin share ($320 per person per day), CAD $6500, USD $6400, EUR 4700 (conversions effective 7 March 2009).
Accommodation arrangements mean that we charge a single supplement of AUD $850.
What is included in the price?
21 nights' accommodation
All travel (not airfares)
Airport transfers
Tours/entertainment/train travel
Meals

14 breakfasts
7 lunches
17 dinners

Croatia

Town tour Zagreb
Museum entry Zagreb
Performance/concert Zagreb
Entry to Plitvice Lakes National Park
Town tour Trogir
Museum entry Trogir
Ferry trip Trogir to Drvenik Veli
Ferry trip Split to Brac Island
Entry Diocletian's Palace, Split
Town tour Dubrovnik

Montenegro

Town tour Budva
Train trip Bar to Kolascaronin
Town tour Herceg Novi
Town tour Kotor

Bosnia-Herzegovina

Town tour Mostar
Train trip Mostar to Sarajevo
Town tour Sarajevo
Museum entry Sarajevo
What do you need to organise and pay for?
Your airfares, travel insurance and passports. Drinks and some of your meals
When do you pay Adriatic Cottages + Tours?
20% deposit when you confirm your booking

We accept Visa, Mastercard and AMEX credit cards. 2% surcharge for payment by AMEX.
Please contact us or send an email to info@adriaticcottages.com to register your interest.