Šubićeva 12, Trogir (Salona)
Three storey house in old town
June 2012 - the renovation of Salona has been completed!
It was a big project and it is finished. Salona looks fabulous and we look forward to visitors enjoying this special building in the old town of Trogir.
The support we received from everyone was tremendous. Peter and Justine thank you - not only for your exceptional service and outstanding quality of work but for your patience, your friendship and for smiling day after day during the past 5 months.
In particular, thank you to our Project Manager Zoran Carija.
We spend 2 weeks chipping plaster from stone walls
The team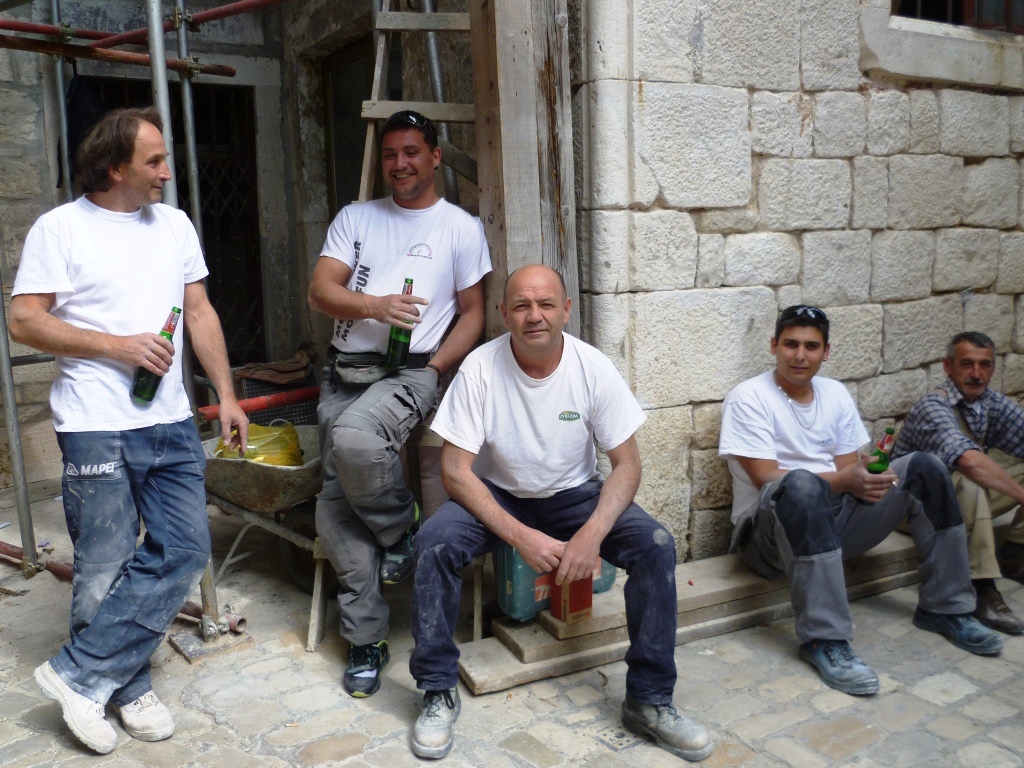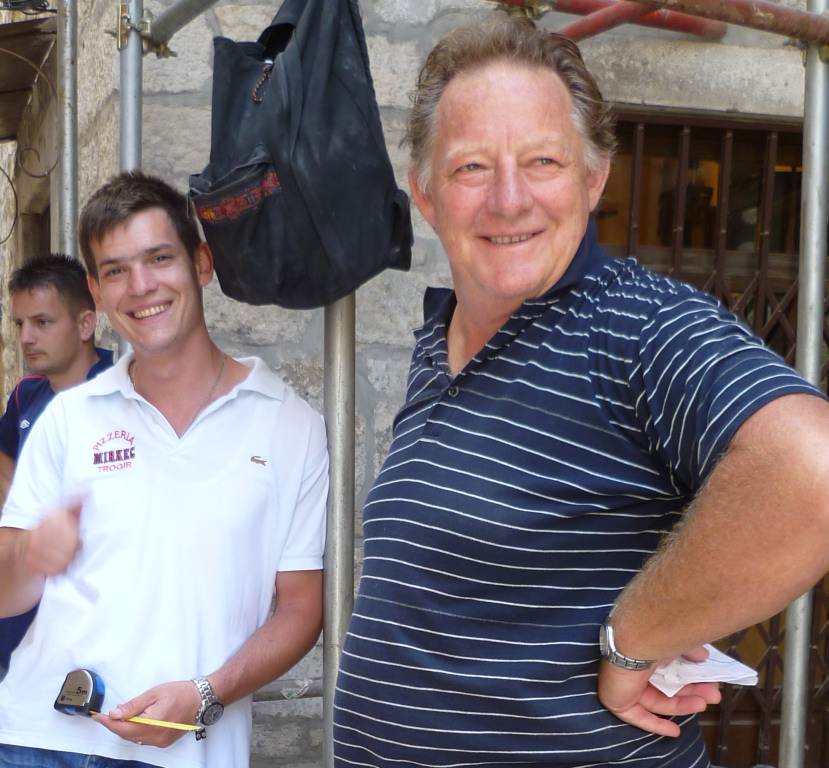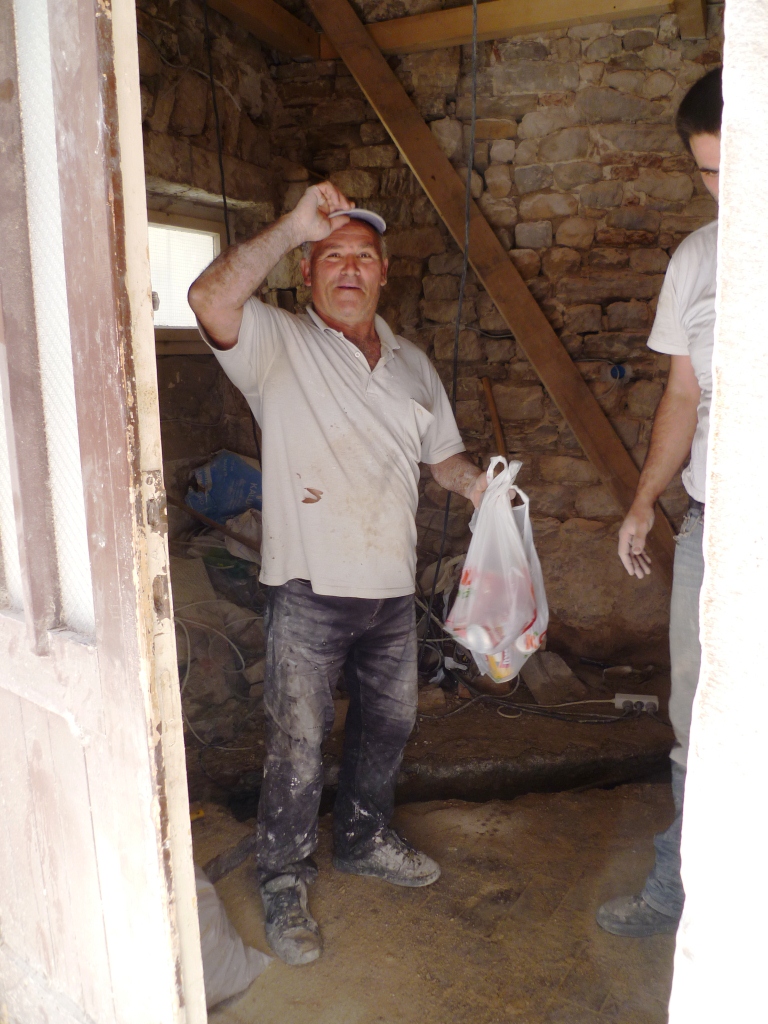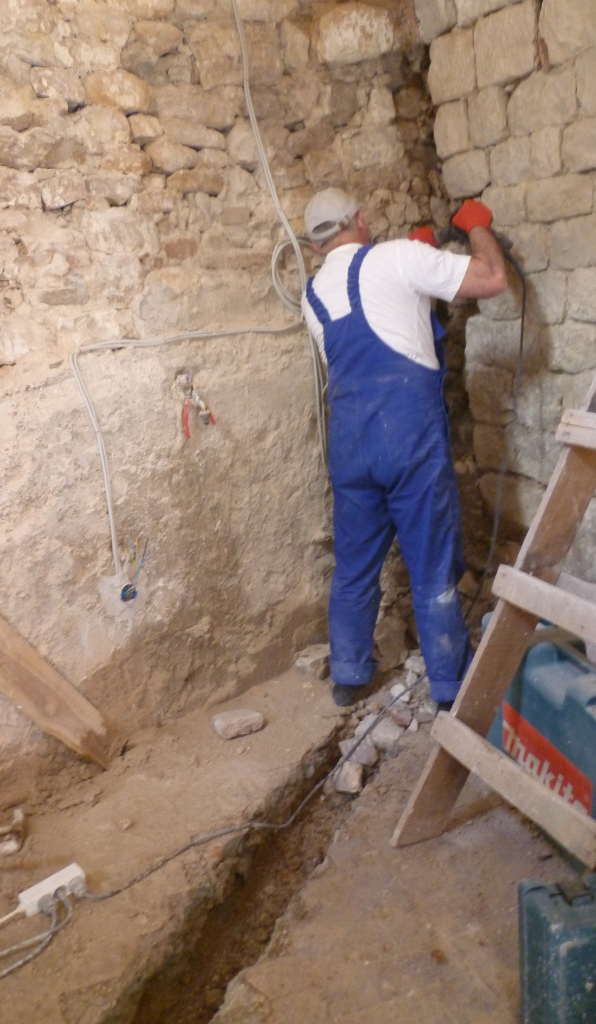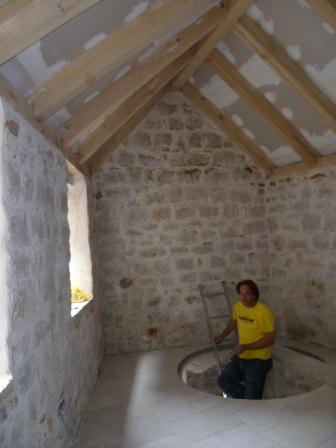 Ribarksa 6, Trogir (The Venetian)
First floor apartment in old town
Peter and Justine thank all of the people involved with the renovation of Ribarska 6. The quality of their work and service is exceptional. We particularly thank Covo, Sipa, Vedran and Vinko. We also thank Stype, Tomo and Gena for their support.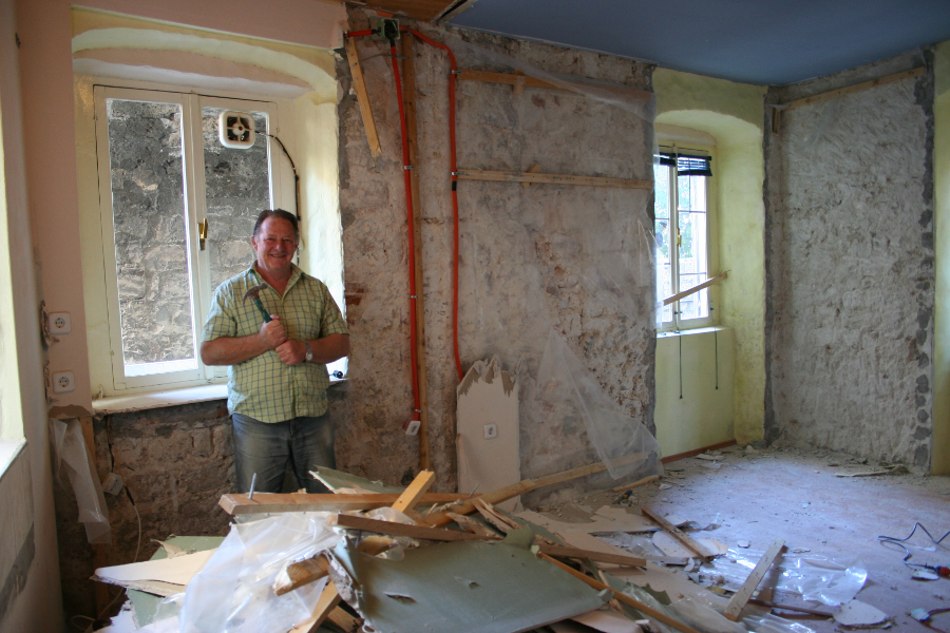 Week 1

Works
Apartment gutted including removal of non structural interior walls.
Arrangements made for regular disposal of material by electric carts through cobblestone alleys where cars are not permitted.
New floor plan agreed including location and size of new bathroom.
Discoveries
Wiring aged.
Plumbing corroded.
Flooring not suitable for restoration due to termites.
Shutters and window frames not suitable for restoration due to poor condition/dry rot.
80% interior stone walls in good condition and well worth restoring.
New sewerage pipes must access neighbours' system.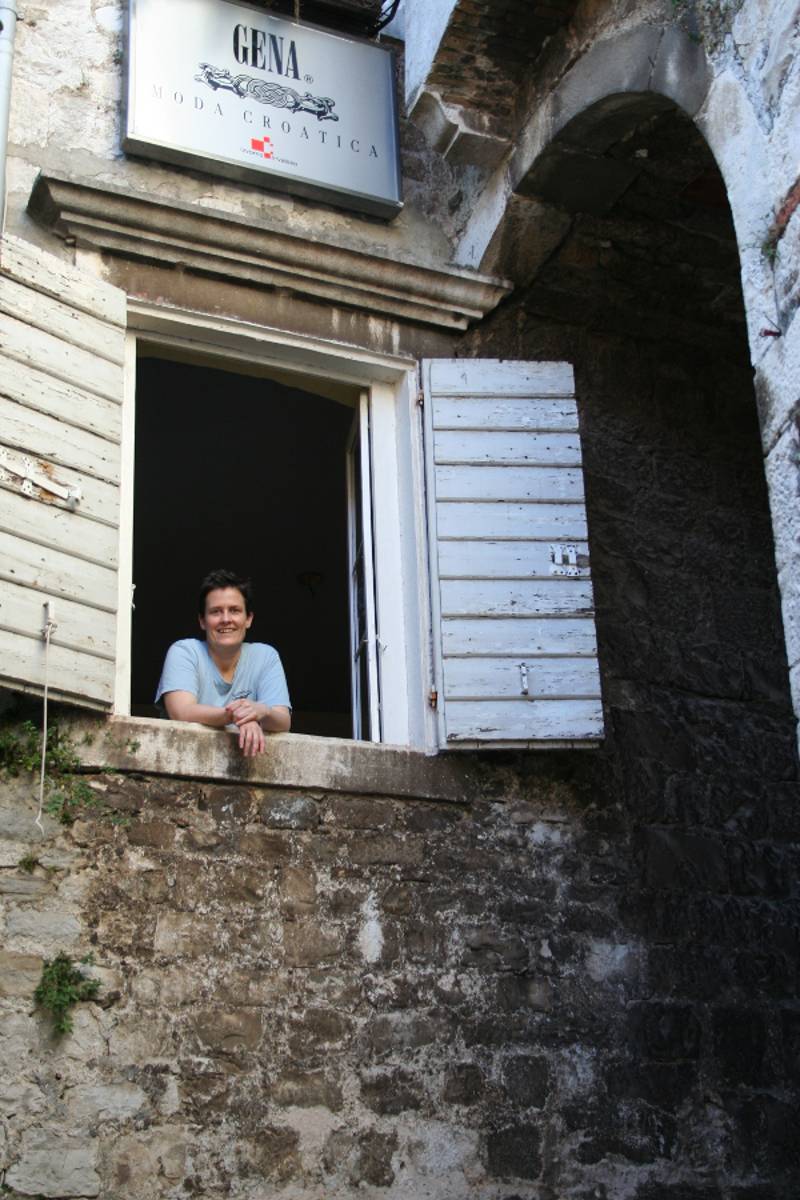 Week 2
Works
Decision made to instal concrete floor.
Commenced restoration interior stone walls.
Installed new plumbing throughout including routing of sewerage through neigbouring property (and associated negotiations and consents).
Installed new electrical wiring throughout.
Double glazed windows ordered.
Ceiling removed.
Kitchen tiles selected and ordered.
External window re-opened for new bathroom.
Concrete floor installed incorporating the new plumbing and wiring.
Obtained permit for truck to access waterfront promenade.
Permission obtained from owner of premises underneath to instal vertical supports.
Cut stone walls for insertion of reinforced steel.
Steel inserted.
4 cubic metres of cement delivered to town gate by truck, transported by wheelbarrow to the apartment and winched by hand to the first floor in buckets.
Floor left to cure for 3 days.
Discoveries
Wiring and plumbing assessed: decision made to replace.
600 year old timber beams are in reasonable condition and capable of restoration for a price. Decision made for economic purposes to retain but at present cover with plasterboard (option therefore retained for future restoration).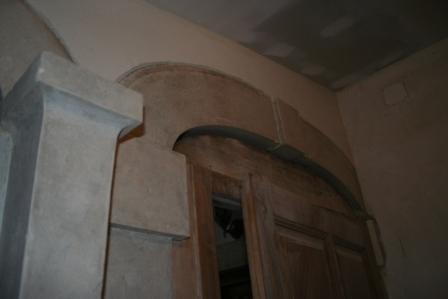 Week 3
Works
Old bathroom removed to make way for new kitchen.
Cement laid to build up floor to provide level base for kitchen.
Kit kitchen measured and ordered. Includes cupboards, refrigerator, sink, oven, hot plates and exhaust fan.
Floor stone cut and laid to suit shape of new kitchen.
Walls and ceiling of kitchen rendered.
Discoveries
Removed old cupboard to unexpectedly expose window and beautiful stone surrounds (covered in brown paint).
50 year old floor tiles in new kitchen (old bathroom) in excellent condition.
Week 4
Works
Ordered and commenced construction of bathroom walls.
Installed new plaster board ceilings.
Installed additional wiring to accommodate air conditioner and other appliances in accordance with UNESCO guidelines.
Upgraded entire electrical system to comply with modern standards (not compulsory but advised).
3 doors ordered and delivered.
Discoveries
No standard shower glass screen/door for the larger size needed.
Split system air conditioner / heater needs an outlet above the neighbour's courtyard.
Week 5
Works
Order custom shower screen/door - from Slovenia.
Talk to painters about their availability.
Vedran the electrician starts work.
Discoveries
We need a break and visit Montenegro and Bosnia-Herzegovina for 5 days.
Week 6
Works
Instal split system airconditioner/heater with external facility above the courtyard: some discussion about its location.
Interior stonework continues including creation of stone window sill using 2 stone floorstones.
Discoveries
Shower drain point could be better located about 10 centimetres to the right.
Week 7
Works
Vedran the electrician continues to instal the latest technology as needed. It's all quite sophisticated and includes numerous hidden points for as yet unknown gadgets.
Relocate shower drain.
Instal double glazed windows.
Discoveries
3 day downpour discloses leaks on interior stone.
rain also discloses need for gutter above kitchen window: general local feeling gutter not needed but we feel necessary.
lengthy discussions about appropriate tiling patterns: top quality Italian ranges affordable but large choice proves a challenge.
New bathroom window does not open outwards as expected: we leave it be as the windows are excellent quality.
Week 8
Works
Tiling of floors in apartment and bathroom, and bathroom walls.
Exterior stonework restoration to remedy leaks.
We source elusive gutter material ourselves after being told material not easy to obtain.
Instal hot water service in kitchen
Discoveries
Fine stonework dust affecting neighbours.
Local stone quarry does not cut round stone table tops as anticipated.
Week 9
Works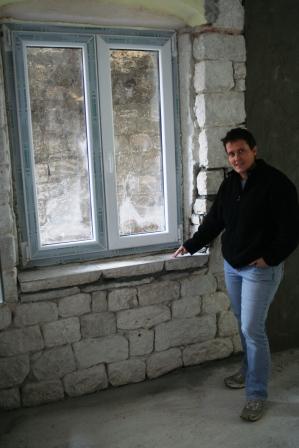 Daily sweep of stairs and courtyard to clear stonework dust.
Visit various stores to source bed, washing machine, wardrobe, refrigerator, television, kitchen appliances, linen, towels, marble tables, chairs and other items of furniture.
Order pay tv service and telephone service connections.
The window shutter man measures the windows.
Connect plumbing: shower, bathroom basin and toilet.
Paint the interior: ceiling and interior plaster walls.
Discoveries
Limited choice of affordable paint colours.
Week 10
Works
Finish installing bathroom door.
Instal all bathroom fittings.
Connect bathroom mirror light.
Collect all furniture and furnish the apartment.
Discoveries
Faced with a choice of confusing pay tv services: we leave it to our Croatian friends on the ground to finalise.
Unable to register The Venetian with the tourist board until all works completed: we leave registration to our friends.