adriatic blog
Read more about Adriatic Cottages & Tours and the area of Croatia.
Mostar's Old Bridge (Stari Most)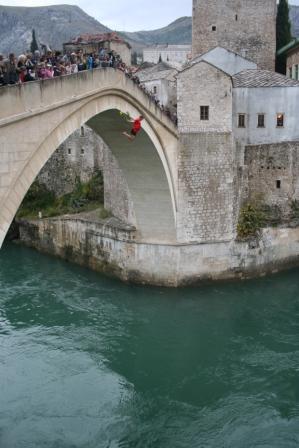 Stari Most is a 16th century bridge in the city of Mostar, Bosnia and Herzegovina that crosses the river Neretva and connects two parts of the city. The Old Bridge stood for 427 years, until the bridge was destroyed at 10.15am on November 9, 1993.
The bridge was rebuilt and re-opened in 2004 and is now UNESCO listed.
At 10.15am November 9, 2009, two men climbed over the rail, held up bunches of flowers and then stepped off (rather than dived) into the cold Neretva River below. Local school children threw flowers over the bridge.
It is traditional for the young men of the town to leap from the bridge into the Neretva. As the Neretva is very cold,this is a very risky feat and only the most skilled and best trained divers will attempt it.
<
Back to Adriatic Blog